Gold Coast Pools Sales blitz on building new swimming pools for Gold Coast home owners
Building quality Gold Coast pools that transform your home and enrich your backyard oasis lifestyle…

Our friendly team is committed to providing contemporary, outstanding quality pools to families on the Gold Coast and surrounding areas in Queensland including Ipswich, Toowoomba, Brisbane and Sunshine Coast.
Pools to suit every Gold Coast lifestyle and backyard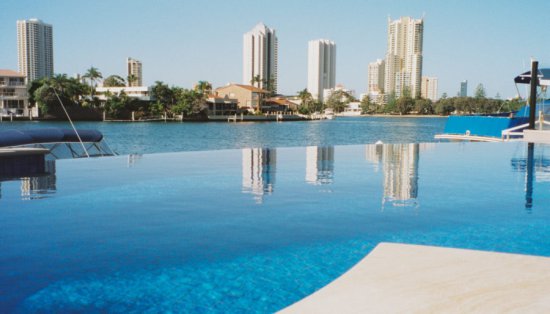 We are a family business that builds pools for our clients and relationships with families, we want you to remain loyal and refer our pool building services to other family and friends. Our swimming pools are an extension of us, we put value in and we are here to offer you a personalised service from a team of caring professionals who have over 30 years experience in pool design and building. As Australians, we treasure the times when we get together with family and friends for a barbeque and a splash in the pool. We're all about giving Queenslanders the opportunity to enjoy this wonderful lifestyle by providing you with affordable quality pools that family and friends can enjoy for life and recreation together.
We are smashing the prices on all our pool building through to 28th February 2015 call today to find out how much you will save and the extras we provide as standard 1800 858635 Quote Summer Blitz Pool Special
There is no better way to relax, exercise or have fun in the sun than swimming and playing all day or night in your very own swimming pool from Gold Coast Pools. "That's real enjoyment".
Gold Coast Pools have been building swimming pools on the Gold Coast for well over 35 years, and with more that 4500 happy customers, we get it right. We understand what our customers' want that's why our swimming pools are designed and constructed to the highest standards.
We design and then construct your swimming pool so that it blends with your property and the environment; your pool should be a stand out talking piece, whilst still blending in to the surroundings.
These days there are many swimming pool designs to choose from, these include but not limited to:
Free-form Swimming Pools
Geometric Swimming Pools
Infinity Swimming Pools
Lap Pool