Dave Manby Heads Up LJ Hooker Robina Varsity Lakes Real Estate Agency
For many educated Robina, Varisty Lakes, Clear Island Waters or Worongary home buyers and investors the name Dave Manby says it all. Dave is a progressive self motivated forward thinking Gold Coast real estate agent that became the back bone of Remax Robina. Dave realised that to further himself and service his buyers and sellers more professionally he would not to captain his own ship. So that is what Dave has done he now heads a dynamic team of real estate agents that service the entire Robina, Varsity Lakes, Clear Island Waters and Worongary suburbs with dedication and success.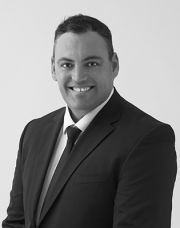 With an unwavering focus on achieving the best possible outcome for his clients, Dave Manby has firmly established himself as one of the Gold Coast's most successful agents. Prior to founding LJ Hooker Robina/Varsity, Dave rose to being the No.1 team leader in Australia and No.2 internationally for a renowned real estate franchise group. His dedication for the industry, together with a strong drive to succeed and finely honed negotiation skills, have led him to being ranked in the top 100 of all real estate agents nationally. Backed by a close knit team of specialists, Dave is the perfect choice when it comes to buying or selling. Dave and his family are local residents, and his enthusiasm for, and knowledge of the Gold Coast and particularly acreage properties within the 4213 postcode provides a major advantage for any client.
Proud of a reputation built on honest and open communication with his clients, Dave mixes a refreshing blend of energy and experience with an easy sense of humour to present a logical and effective solution to your property needs – together with an unwavering commitment to achieving exceptional results, you will not find a more hard working, or passionate person in the real estate industry. If you are looking for someone with that critical combination of experience, tenacity and pro-activity, then Dave Manby is ready, willing and able to achieve the best possible outcome for you.
Suite 9 "The Piazza"
228 Varsity Parade
VARSITY LAKES QLD 4227