Medical Treatment Funding And Finance For Cosmetic Plastic Surgery And Dental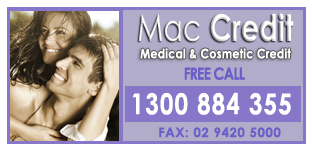 Mac Credit provides flexible payment plans for financing Cosmetic, Medical and Dental Procedures. If you need help with finding the funds to pay for your procedures, Mac Credit will help you to find the best solution for you. We have serviced over 2,200 clinics across Australia and over 16,000 patients a year.
Our payment plans are affordable and ideal for assisting you with payments for procedures that are not fully covered by insurance.
Are you considering undergoing treatment in any of the following? But need medical funding due to lack of financial position, this is where Mac Credit Australia's medical procedure funding.
Cosmetic Surgery
Plastic Surgery
Dental/Orthodontic procedures
Bariatric/Lap Banding Surgery
Hair Restoration
ENT Surgery
Orthopaedic Surgery
Laser Eye Surgery
Obstetrics & Gynaecology
IVF Programs
General Hospital & Medical Fees
For more information simply phone 1300 884 355 or go to FAQ
Mac Credit Medical Treatment Funding And Finance For Cosmetic Plastic Surgery And Dental